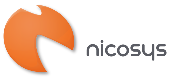 Vision
Our mission
Top Vision
PhilosophyOur mission
Vision
To make the world smile with IT
---
We make things which we thought were impossible until now. They become possible and at the same time make people happy all over the world. Believe in the power and potential of IT to bring happiness to people.
Action AgendaOur course of action
Our aim is for the members of our company to feel good and comfortable through their experience at work. To do so, we defined the course of actions described below.
01
Kindness
---
We make sure that it is important that we behave gently and kindly to everyone in our life.
02
Strength
---
We believe that the "strength" of keeping kindness in our mind anytime is necessary. Have the awareness of being a professional, and keep a dignified behavior.
03
Enjoyable
---
We need to find the enjoyable things which make us forget about the time, and keep them in our mind in daily work while trying to share and spread positiveness.
Contact usSales and Partnership Inquiries
We believe that our solution will satisfy you.
Regarding request for system development and IT consulting, Please feel free to contact us.
Contact us