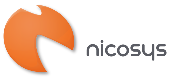 Recruit
We're hiring
Top Recruit Corporate message
MessageCorporate message
Shall we make the world smile together?
We can choose any way to reach our goal.
---
The best way to define Nicosys in one word would be that it is an unique company
Our staff try to don't say "no" to customer's requirements as much as possible. We believe that it is important to achieve the goal set together, with our customer. Most people think that in order to handle system development, programming and mathmatics skills and background are required. However we don't think so. For example, even inexperienced people can become a professional engineer. We belive that what an engineer need is communication skills, to be a sharp observer and be insightful. Each employee bring their own life experience, culture, passions, etc, from which they create new, interesting and useful things. In order to create these with our customers, it is important that you have your own words firmly understood by other people, and to understand the other people's words as well.. Nicosys is a company that is providing education and, since IT consulting is our core business, cultivates IT knowledge, so we are always looking for Development engineers. We believe that most people can become a professional engineer within 3 years. By working at Nicosys, You will gain experience and develop yout skills toward IT development, We hope that you are ready to take your career in your own hands and enrich your life with IT skills.
EntryPlease check the following link
We're looking forward to seeing you.
Wantedly describes current recruiting infrmation. Please don't hesitate to get in touch with us.
Go to Wantedly